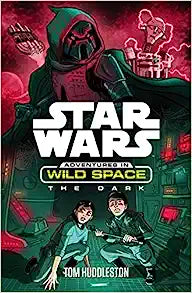 An original Star Wars fiction series for children, The Adventures in Wild Space takes place in the period between Star Wars: Revenge of the Sith and Star Wars: A New Hope. Star Wars fans can meet a whole host of new characters, including a new droid, CR-8R, and a new villain, Captain Korda.
It is a time of darkness. With the end of the Clone Wars and the destruction of the Jedi Order, the evil Emperor Palpatine rules the galaxy unopposed. After their parents were kidnapped by the ruthless Imperial Captain Korda, young explorers Lino and Milo Graf set out to find them
When the parents of Milo and Lina Graf are abducted by agents of the evil Empire, the children must undertake a perilous journey across the unknown reaches of Wild Space to rescue them – and to discover hope for the future.
In this fourth full-length adventure, Milo and Lina find themselves adrift in a starship that is spiralling towards disaster. A dangerous criminal is on the loose, the Empire is closing in – and something even deadlier awaits them in the darkness ... 
Product Details:

Paperback: 144 pages
Age Range: 10-12 years
Publisher: Egmont
Language: English
Product Dimensions: 197 x 129mm