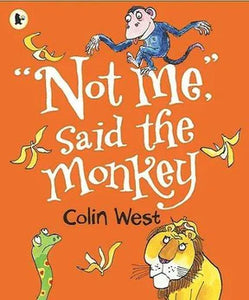 Join the jungle fun in this series of delightfully simple and surprising tales for early readers.

Who keeps dropping banana skins and throwing coconuts and causing all sorts of mischief in the jungle? "Not me," says the monkey. But everyone knows he's to blame - and when he tickles the elephant, the cheeky chimp gets a big surprise.

This lively, repetitive text builds up to a very satisfying twist in the tale, which is guaranteed to tickle even the most reluctant reader. Great fun to read aloud, this funny jungle story is perfect for younger readers developing their confidence.
Product Details:
Audience: Children
Format: Paperback
Language: English
Number Of Pages: 24
Publisher : Walker Books
Dimensions (cm): 26.0 x 21.6 x 0.3
Weight (kg): 0.12