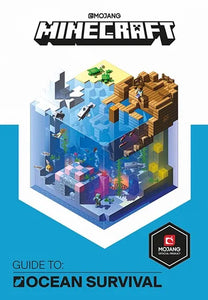 Minecraft's oceans are waiting to be explored, but new dangers lurk beneath the surface of the water and survival can prove difficult for even the bravest adventurer.
The official Minecraft Guide to Ocean Survival will teach you how to breathe underwater, find the ocean's valuable loot and protect yourself from dangerous mobs. With insider info and tips from the experts at Mojang, this is the definitive guide to underwater survival for aquatic adventurers.
Minecraft is a multi-platform block-based gaming sensation available on Xbox, PlayStation, PC and mobile devices. Whether you're in Creative, Survival or Hardcore Mode, the official Mojang-approved Minecraft books contain all the advice you need to survive and thrive.
Product Details:

Age Range: 8 - 12 years
Grade Level: 3 - 7
Series: Minecraft
Hardcover: 80 pages
Publisher: Del Rey
Language: English
Product Dimensions: 6.1 x 0.6 x 8.4 inches