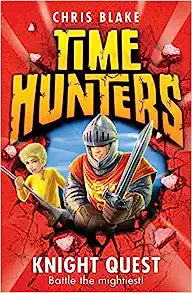 Join Tom on an incredible treasure hunt through time and battle history's mightiest warriors.
When ten-year-old Tom accidentally smashes a statue in a museum he releases Isis, a young Egyptian mummy who has been imprisoned for thousands of years. To break an ancient curse, the duo must travel back in time to find six hidden amulets - battling Gladiators, Knights, Greeks, Vikings, Pirates and Egyptian Warriors!
On their second quest, Tom and Isis meet King Arthur's heroic knights! They must prove their bravery in a race to find a legendary golden sword!
Product Details:

Paperback: 176 pages
Age Range: 7-12 years
Publisher: Harper Collins
Language: English
Product Dimensions: 199 x 130mm