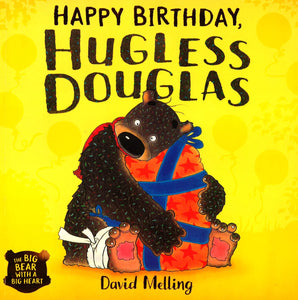 Hugless Douglas is very excited about his birthday surprise.
But when the surprise turns out to be his over-excited twin cousins, Douglas is sure this will be the worst birthday ever!
This is the fifth adventure in the hugely popular series, which has sold over 1.4 million copies in 26 languages to date.
David Melling is one of the UK's best-loved author-illustrators and his stories combine brilliantly imaginative illustrations with an endearing sense of what it is like to be a small child learning about the world.
Product Details:
Audience: Children
Format: Paperback
Language: English
Number Of Pages: 32
Publisher : Hodder
Dimensions (cm): 26.5 x 26.0 x 0.3
Weight (kg): 0.21