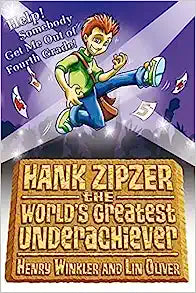 It's the end of the year parent-teacher conference and Hank Zipzer is in trouble, again.

Worried that he will have to repeat fourth grade, he comes up with a plan he will fix it so his parents are on holiday for the whole conference. Of course, being Hank, the plan backfires.

Will he have to stay in fourth grade for ever?
Product Details:

Age Range: 8 - 12 years
Grade Level: 3 - 7
Paperback: 176 pages
Publisher: Walker Books
Language: English
Product Dimensions: 130 x 192 x 12mm