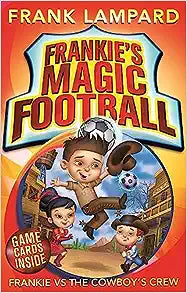 Frankie and his soccer team travel to fantastic lands to play some of the wildest soccer matches ever!

Frankie and his team love playing soccer. There's always time for a game. And now that they have their magical soccer ball they're playing against teams they never imagined!

When they're transported back into the Wild West, Frankie's team will have to go head-to-head with some crabby cowboys. Will they be able to win the penalty shoot out at high noon?
Product Details:

Format : Paperback
Language : English
Age Group : 9-12 years
No. of Pages : 112 pages
Dimension : 130 x 198mm
Publisher : Little Brown Books