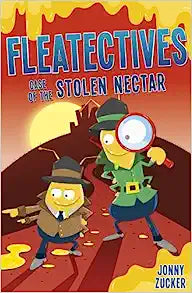 All the nectar in Larva Town has gone missing!

The West Side bees blame the East Side bees but are either of them really to blame? It's up to the Fleatectives, Buzz and Itch, to solve the case.

Could it be down to the Painted Lady, the beautiful but sinister butterfly? If only useless Sheriff Blatt wouldn't keep getting in the way.

Hopefully, with the help of the rabbit they live on, Lambert, Buzz and Itch can solve the case before the war between the bees gets dangerous and the ecosystem is destroyed!
Product Details:

Format : Paperback
Language : English
Pages : 119 pages
Age Group : 9-12 years
Dimension : 20 x 13 x 1cm
Publisher : Scholastic