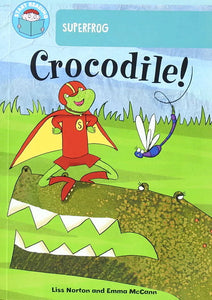 Start Reading is a new series of highly enjoyable books for beginning readers.
Superfrog is a series of four books at Turquoise Band 7 of the Start Reading programme. The stories follow the antics of Superfrog as he saves the day once again!

When Fergus and his best friend, Doris, hear a strange noise, they fly off to investigate. What they don't expect to find is an angry, hungry crocodile!
Product Details:

Paperback: 32 pages
Age Group : 3-5  years
Publisher: Wayland
Language: English
Product Dimensions: 200 x 145mm