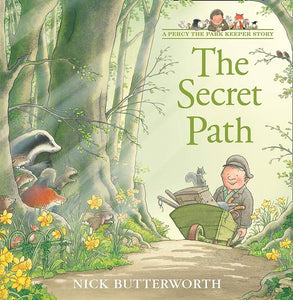 Percy the Park Keeper is in for a surprise in this funny story from highly-regarded, bestselling author-illustrator Nick Butterworth. Includes a fabulous fold-out maze.
It's a beautiful spring morning and a perfect opportunity for Percy to trim the overgrown maze. The animals decide to have some fun hiding on the stone lion in the middle of the maze, to surprise Percy. But the suprise is on them when they fall asleep and Percy, finding them, hides behind the statue and pretends his voice is the lion's telling them to wake up.
Percy has unravelled some string through the maze to help him find the way out but the squirrel, thinking he is helping, has wound the string into a ball. Help Percy and his friends find the way out of the park, guiding them through the fold-out maze at the back of the book.
Product Details:
Audience: Children
Format: Paperback
Language: English
Number Of Pages: 32
Publisher : HarperCollins Publishers
Dimensions (cm): 26.5 x 20 x 0.5
Weight (kg): 0.28