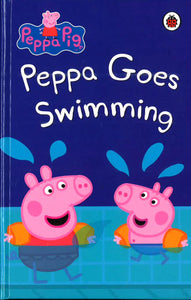 Peppa Goes Swimming is a colourful and engaging story book based on the delightful children's series.
Peppa and George are going swimming, but George is a bit scared. How will Mummy and Daddy Pig ever convince him to get in the pool? Read this fun children's story to find out.
The Peppa Pig range of books are fun, interactive and educational, ideal for encouraging children to start to read by themselves. Titles available from Ladybird include: Peppa Goes Camping, Peppa and George's Shiny Sticker Book, Peppa's Bubble Fun and Peppa's Super Noisy Sound Book.
Product Details:
Audience: Children
Format: Hardcover
Language: English
Number Of Pages:20
Publisher : Penguin Random House Children's